Job Opportunities
The difference between being good and being great. The difference between high-level performance and all levels below it. The distinction between someone who merely makes decisions and someone who strives to make a difference. At Rocket Mortgage FieldHouse, including the Cleveland Cavaliers, Cleveland Monsters and Cleveland Gladiators, when you make a difference for our company and our clients you are THE DIFF.
If you are interested in employment with Cavaliers Holdings, Aramark or Rocket Mortgage FieldHouse Loans, please view our available job opportunities in the dropdown menu below. For information on team member benefits, organizational culture, the Cavaliers Leadership Team and our Seasonal Program, please follow the links below. Also, check out our All Star Showcase to see which Cavaliers Holdings team member is currently being featured!
As a part of our team, you'll have access to our fantastic benefits plans and team member perks such as:
401 K Plan
Health, Dental and Vision Coverage
Life Insurance
Accidental Death and Dismemberment Insurance
Health and Dependent Care Flexible Spending Accounts
Paid Holidays
Family of Company Discounts
24/7 Garage Parking
Snacks (popcorn, slushies, cappuccinos, etc.)
Educational Seminars
Wellness Program
Team Member Exercise Facilities
Complimentary Tickets to Home Sports Events
*Certain benefits are not inclusive to all team members and are dependent on the team member's job status (Full Time, Part Time, Temporary, etc.)
ISMs are ideals for all of our team members to follow and the secret ingredients that make our organization so successful. We want our team members to live by the ISMs. They produce an incredible culture that promotes creativity, enthusiasm and passion. Without the ISMs, we wouldn't be who we are today.
ISMs are ideals for all of our team members to follow and the secret ingredients that make our organization so successful. We want our team members to live by the ISMs. They produce an incredible culture that promotes creativity, enthusiasm and passion. Without the ISMs, we wouldn't be who we are today. "Our ISMS are the core beliefs that guide us like a compass and serve as our philosophy and the foundation that firmly sits under our strategy, tactics and decision-making. Our ISMs are WHO we are. And what we do is secondary to who we are.

Dan Gilbert, Founder and Chairman
Len Komoroski
Chief Executive Officer
Cleveland Cavaliers, Cleveland Monsters, Cleveland Gladiators, Canton Charge & Quicken Loans Arena
Len Komoroski is Chief Executive Officer of the Cleveland Cavaliers and Quicken Loans Arena organization. The organization includes the Cleveland Monsters (AHL), Cleveland Gladiators (AFL), and Canton Charge (NBADL). In addition, he oversees all business operations and business-related endeavors for Cavs majority owner Dan Gilbert's family of sports and entertainment interests in Ohio. He is also a principal in Rock Gaming, which operates Horseshoe Casino Cleveland. Most recently, he played a significant leadership role in securing Cleveland as the host city for the 2016 Republican National Convention.
With more than 30 years of experience in pro sports and entertainment, Komoroski's leadership has helped set a solid business foundation from which the Cleveland Cavaliers, Cleveland Monsters, Cleveland Gladiators, Canton Charge and Quicken Loans Arena have flourished into one of the most successfully operated sports and entertainment organizations in the country.
Komoroski joined the Cavaliers organization in 2003 as president. In his first year he restructured and transformed how the Cavaliers approached the business community; assembled a team of top sports marketing pros; transformed the organization's communications efforts; and oversaw the development of one of the most dynamic game experiences in the NBA. Other accomplishments at the helm of the Cavaliers business operations include playing pivotal roles in developing one of the top cable television relationships in the NBA with Fox Sports Ohio, as well as securing the entitlement of the Cavaliers new state-of-the-art player development center - Cleveland Clinic Courts.
The Cavaliers franchise has been repeatedly recognized within the pro sports team industry (NBA, NFL, NHL, MLB and MLS) as one of five finalists for Sports Business Journal's prestigious "Sports Team of the Year" award in recent years. The award recognizes excellence, creativity and innovation in franchise business operations.
As one of the seven Principles of Rock Gaming, Komoroski played an instrumental role in bringing first-class, full-service casino gaming to downtown Cleveland and Cincinnati along with thousands of jobs and millions of dollars of positive economic impact for local and statewide communities.
Very active as a community and civic leader, he serves on the board of directors of the Greater Cleveland Partnership, the Downtown Cleveland Alliance, the Cleveland State University Foundation, and the Cleveland chapters of the American Red Cross and United Way. He is also Chairman of the Board for Destination Cleveland, Cleveland's convention and visitor's bureau. Komoroski was named Sales and Marketing Executives of Cleveland's (SME) 2013 Business Executive of the Year, and in 2014 received the PRSA John Hill Award for outstanding understanding of and support for communications by an organization's president or chief executive officer.
Prior to joining the Cavaliers organization, Komoroski was the Senior Vice President and Chief of Business Operations with the NFL's Philadelphia Eagles (1996-2003). There, he played a pivotal role in the Eagles' growth and business success, which included bringing the Eagles Television Network in-house and helping to broker the record-setting, multi-million dollar naming rights deal for the Eagles training facility, the NovaCare Complex; development of Lincoln Financial
Field, the Eagles state-of-the-art stadium and secured a 20-year, $140 million naming rights agreement with Lincoln Financial Group which, at the time, was one of the largest such agreements in pro sports history.
Prior to the Eagles, Komoroski was the Senior Vice President and COO of the International Hockey League's (IHL) Cleveland Lumberjacks (1994-96). The team was one of three profitable IHL teams in 1996. His first stint in the NBA was with Minnesota Timberwolves as Vice President of Sales (1988-1994), there he played a major role in the start-up of the team and its arena, the Target Center.
Komoroski is a 1982 cum laude graduate of Duquesne University. He and his wife Denise have three daughters – Kristin, Kelly, Jamie and a son, Zachary.
---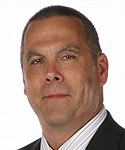 Tad Carper
Senior Vice President / Communications & Broadcasting
Cleveland Cavaliers, Cleveland Monsters, Cleveland Gladiators, Canton Charge & Quicken Loans Arena
After being named Vice President of Communications in April of 2003, Carper was promoted to Senior Vice President/Communications for the Cavaliers and Quicken Loans Arena organization in August of 2006. Broadcasting was added to the communications group during the 2012-13 Cavaliers season. In his position, Carper oversees all player, team and front office public relations, media service and communications elements, broadcasting, arena and special event public relations, corporate and business communications, and community relations programs for the NBA's Cleveland Cavaliers, Quicken Loans Arena, Cleveland Monsters (AHL), Cleveland Gladiators (AFL) and the Cavalier's NBA D-League team – the Canton Charge. In addition, Carper works closely with Dan Gilbert and the Cavaliers ownership group and is a member of the organization's executive leadership team working on other special business projects, as well as the strategic business planning, positioning and operation of the team and organization.
Prior to becoming Vice President of Communications, Carper was the Vice President of Marketing for the then Cavaliers/Gund Arena Company from early 2000 through the conclusion of the 2002-03 Cavaliers season. He led the re-branding process for the Cavaliers that involved the change in team colors, logos and uniforms (back to a "new expression of wine and gold") that were launched at the final game of the 2002-03 season.
For more than 25 years, Carper has held a variety of sports and entertainment industry sales, marketing, and communications positions. Immediately prior to joining the Cavaliers Operating Company, he was the vice president of sales and marketing for the Lansing (Michigan) Entertainment & Public Facilities Authority. Prior to that, Carper was a director for SMG, the organization that operates the Jacksonville (FL) Sports, Entertainment and Convention Facilities. He made key contributions to the successful renovation, grand opening and first two seasons of Jacksonville Municipal Stadium (home of the NFL's Jaguars), as well as the renovation of the Times-Union Center for the Performing Arts and the Veterans' Memorial Coliseum.
Carper, 52, holds a Master of Science degree in Sport Management from the University of Richmond (Virginia), as well as a Bachelor of Science degree in Business Administration from Shepherd College (West Virginia). He resides in Avon, Ohio with his wife, Ann, and their three children Madison (Madi), Clayton (Clay), and Elizabeth (Libby).
---
Tracy Mare
Senior Vice President of Marketing
Chief Marketing Officer
Cleveland Cavaliers, Cleveland Monsters, Cleveland Gladiators, Canton Charge & Quicken Loans Arena
Tracy Marek is the senior vice president of marketing/chief marketing officer for the Cleveland Cavaliers and Quicken Loans Arena and has over 20 years of marketing experience in the professional sports and entertainment industry.
Tracy joined the Cavaliers in 2003 and oversees all aspects of brand and creative development, advertising, promotions, game entertainment, graphic design and QTV video production for the organization.
In addition to her marketing leadership position with the Cavaliers and Quicken Loans Arena, Tracy works in partnership with minor league team leadership to oversee and support these areas of the marketing business for the Cleveland Monsters (AHL hockey), Cleveland Gladiators (AFL football), and Canton Charge (NBA Development League), and works in partnership with the executive leadership team on overall strategic planning for the organization. She also has a key leadership role with Cavaliers retail team that manages merchandising for all Cavaliers properties and arena concerts and events. Tracy was recently recognized as a Crain's Cleveland Business Woman of Note Class of 2012.
Prior to joining the Cavaliers, Tracy was the vice president of business operations for the Fort Wayne Wizards, the Class A Minor League Baseball affiliate of the San Diego Padres for three seasons. In this role, she was responsible for all aspects of the business operations of the team, and led the financial and organizational restructuring of the franchise.
Tracy grew up moving around the United States and Europe as the daughter of a career US Air Force officer. She graduated from Boston University, and started her sports career in communications, marketing and game presentation for the Cleveland Lumberjacks of the International Hockey League.
Tracy and her husband Randy Newell live in Lakewood, Ohio. They are passionate fundraisers for the American Cancer Society, and avid travelers, having visited 37 countries, and 6 continents, including Antarctica.
---
Antony Bonavita, CFE
Sr. Vice President, Facility Operations
Cleveland Cavaliers, Cleveland Monsters, Cleveland Gladiators, Canton Charge & Quicken Loans Arena
Antony Bonavita joined the Cleveland Cavaliers and Quicken Loans Arena Organization as Vice President of Facility Operations in June 2010 after serving for two years as Assistant General Manager for the San Antonio Spurs and AT&T Center. Prior to that, he spent 13 years in collegiate athletics at Stony Brook University, New York, where he started off as a marketing intern and worked his way up to the Assistant Director of Athletics for Facility and Event Operations. Antony earned both his degrees at Stony Brook; a bachelor's degree in Political Science and his master's degree in Liberal Studies with a concentration on Leadership and Management.
A Certified Facilities Executive (CFE), Antony has more than 21 years of experience in facility and event management, and is credited for his progressive thinking and focus on the overall guest experience. His primary duties include day to day operations, guest experience, event booking and project management of all the facilities under the Cavaliers Operating Company umbrella including; The Quicken Loans Arena, home to the NBA Cleveland Cavaliers, AHL Cleveland Monsters, and the AFL Cleveland Gladiators, Cleveland Clinic Courts, a $27 million, state-of-the-art practice facility for the Cavaliers, as well as the practice facilities for the Monsters and Gladiators.
In 2011, when the Cavs expanded into the Canton market with the purchase of an NBA D-League team and re-launched it as the Canton Charge, Antony played a key role in the negotiations and eventual agreements for both the Charge's practice facility and game day venue, the Canton Memorial Civic Center. In 2015, Antony was promoted to Sr. Vice President, Facility Operations, with Cavaliers Holdings.
Antony is an active member of the International Association of Venue Managers (IAVM), where he also teaches at the Venue Management School. He is a member of the International Facility Managers Association (IFMA) and additionally serves on the Board of Directors of the National Alzheimer's Association, Cleveland Chapter as well as City Year of Cleveland and is involved with numerous fundraisers in support of Autism Awareness. A native New Yorker, Antony and his wife Jaclyn and their two sons, Dominic and Luca, reside in Avon, Ohio and are very happy to call Northeast Ohio home.
The seasonal program with Cavaliers Holdings offers individuals "hands on" experience in a number of different areas. Those selected to work will have the opportunity to become acquainted with the sports and entertainment industry, generally, and our organization, a member of the National Basketball Association, American Hockey League, Arena Football League and NBA Development League, specifically. They will be able to prove (and improve) their abilities through various job duties and responsibilities and gain valuable experience.
REQUIREMENTS
During the regular sports season, preference will be given to candidates who will be able to work from September-April for one of our various teams. If not all spots can be filled for the entire season, consideration will be given to applicants who are able to work in just the Fall or just the Spring (e.g. to fulfill an internship requirement for school, etc.). The following departments typically require seasonal help throughout the course of the year:
Basketball Operations
Communications
Community Relations
Corporate Partnership
Digital Team
Facilities
Finance
Group Sales
Human Resources
Information Technology
Marketing
Video / Game Experience
Sourcing & Administrative Services
Ticket Sales
Candidates should possess strong oral and written communication skills. Solid computer skills are a necessary requirement given the nature of the modern business office (experience with Microsoft Office applications: Word, Excel, PowerPoint, Outlook, etc., which are used company-wide). Candidates should be prepared to work 30-40 hours per week through the entire season. Summer Seasonal positions are also available and vary from year to year with select teams in the organization.
THE SELECTION PROCESS
Seasonal positions will be posted online and can fulfill internship requirements for students. For a list of our current Seasonal openings, click here.
The number of applicants for summer seasonal positions far exceeds any other period. Therefore, when possible, we encourage candidates to apply for a full year seasonal position.
If you are not selected for the seasonal position of your choice, you may want to apply for another area or ask that we keep your resume in our active file for future consideration.